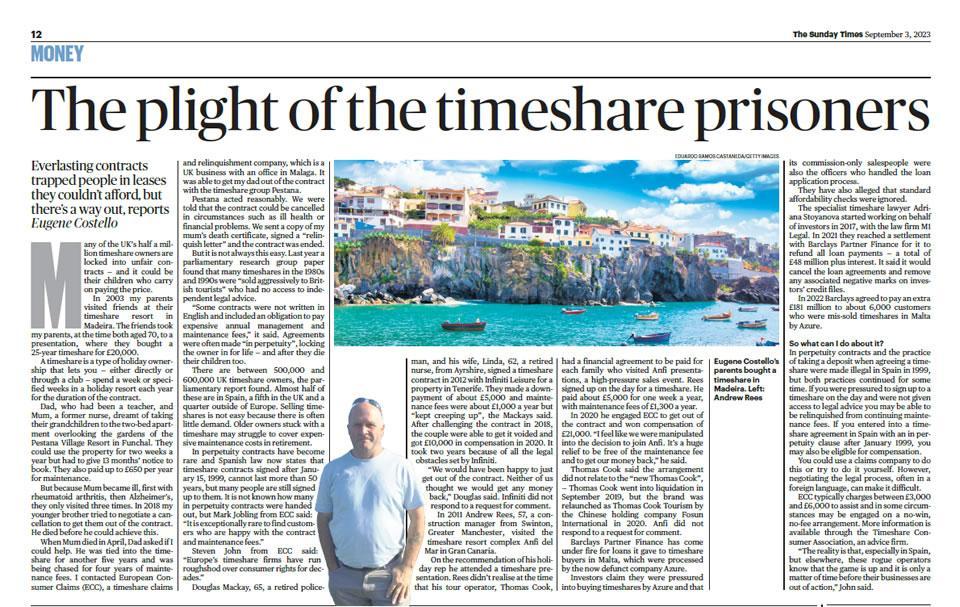 The plight of timeshare prisoners freed by our European Division (ECC) as featured in the Sunday Times
Everlasting contracts trapped people in leases they couldn't afford, but there's a way out, reports Eugene Costello
Many of the UK's half a million timeshare owners are locked into unfair contracts — and it could be their children who carry on paying the price. In 2003 my parents visited friends at their timeshare resort in Madeira. The friends took my parents, at the time both aged 70, to a presentation, where they bought a 25-year timeshare for £20,000.
A timeshare is a type of holiday ownership that lets you — either directly or through a club — spend a week or specified weeks in a holiday resort each year for the duration of the contract.
Dad, who had been a teacher, and Mum, a former nurse, dreamt of taking their grandchildren to the two-bed apartment overlooking the gardens of the Pestana Village Resort in Funchal. They could use the property for two weeks a year but had to give 13 months' notice to book. They also paid up to £650 per year for maintenance.
But because Mum became ill, first with rheumatoid arthritis, then Alzheimer's, they only visited three times. In 2018 my younger brother tried to negotiate a cancellation to get them out of the contract. He died before he could achieve this.
When Mum died in April, Dad asked if I could help. He was tied into the timeshare for another five years and was being chased for four years of maintenance fees. I contacted European Consumer Claims (ECC), a timeshare claims and relinquishment company, which is a UK business with an office in Malaga. It was able to get my dad out of the contract with the timeshare group Pestana.
Pestana acted reasonably. We were told that the contract could be cancelled in circumstances such as ill health or financial problems. We sent a copy of my mum's death certificate, signed a "relinquish letter" and the contract was ended.
But it is not always this easy. Last year a parliamentary research group paper found that many timeshares in the 1980s and 1990s were "sold aggressively to British tourists" who had no access to independent legal advice.
"Some contracts were not written in English and included an obligation to pay expensive annual management and maintenance fees," it said. Agreements were often made "in perpetuity", locking the owner in for life — and after they die their children too.
There are between 500,000 and 600,000 UK timeshare owners, the parliamentary report found. Almost half of these are in Spain, a fifth in the UK and a quarter outside of Europe. Selling timeshares is not easy because there is often little demand. Older owners stuck with a timeshare may struggle to cover expensive maintenance costs in retirement.
In perpetuity contracts have become rare and Spanish law now states that timeshare contracts signed after January 15, 1999, cannot last more than 50 years, but many people are still signed up to them. It is not known how many in perpetuity contracts were handed out, but Mark Jobling from ECC said: "It is exceptionally rare to find customers who are happy with the contract and maintenance fees."
Steven John from ECC said: "Europe's timeshare firms have run roughshod over consumer rights for decades."
Douglas Mackay, 65, a retired policeman, and his wife, Linda, 62, a retired nurse, from Ayrshire, signed a timeshare contract in 2012 with Infiniti Leisure for a property in Tenerife. They made a downpayment of about £5,000 and maintenance fees were about £1,000 a year but "kept creeping up", the Mackays said. After challenging the contract in 2018, the couple were able to get it voided and got £10,000 in compensation in 2020. It took two years because of all the legal obstacles set by Infiniti.
"We would have been happy to just get out of the contract. Neither of us thought we would get any money back," Douglas said. Infiniti did not respond to a request for comment.
In 2011 Andrew Rees, 57, a construction manager from Swinton, Greater Manchester, visited the timeshare resort complex Anfi del Mar in Gran Canaria.
On the recommendation of his holiday rep he attended a timeshare presentation. Rees didn't realise at the time that his tour operator, Thomas Cook, had a financial agreement to be paid for each family who visited Anfi presentations, a high-pressure sales event. Rees signed up on the day for a timeshare. He paid about £5,000 for one week a year, with maintenance fees of £1,300 a year.
In 2020 he engaged ECC to get out of the contract and won compensation of £21,000. "I feel like we were manipulated into the decision to join Anfi. It's a huge relief to be free of the maintenance fee and to get our money back," he said.
Thomas Cook said the arrangement did not relate to the "new Thomas Cook", — Thomas Cook went into liquidation in September 2019, but the brand was relaunched as Thomas Cook Tourism by the Chinese holding company Fosun International in 2020. Anfi did not respond to a request for comment.
Barclays Partner Finance has come under fire for loans it gave to timeshare buyers in Malta, which were processed by the now defunct company Azure.
Investors claim they were pressured into buying timeshares by Azure and that policeits commission-only salespeople were also the officers who handled the loan application process.
They have also alleged that standard affordability checks were ignored.
The specialist timeshare lawyer Adriana Stoyanova started working on behalf of investors in 2017, with the law firm M1 Legal. In 2021 they reached a settlement with Barclays Partner Finance for it to refund all loan payments — a total of £48 million plus interest. It said it would cancel the loan agreements and remove any associated negative marks on investors' credit files.
In 2022 Barclays agreed to pay an extra £181 million to about 6,000 customers who were mis-sold timeshares in Malta by Azure.
So what can I do about it?
In perpetuity contracts and the practice of taking a deposit when agreeing a timeshare were made illegal in Spain in 1999, but both practices continued for some time. If you were pressured to sign up to a timeshare on the day and were not given access to legal advice you may be able to be relinquished from continuing maintenance fees. If you entered into a timeshare agreement in Spain with an in perpetuity clause after January 1999, you may also be eligible for compensation.
You could use a claims company to do this or try to do it yourself. However, negotiating the legal process, often in a foreign language, can make it difficult.
"The reality is that, especially in Spain, but elsewhere, these rogue operators know that the game is up and it is only a matter of time before their businesses are out of action," John said.
---
Source: https://www.thetimes.co.uk/article/what-is-timeshare-scams-uk-news-j7jr0937f